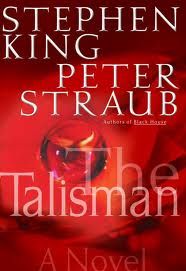 Title:
The Talisman
Author(s):
Stephen King and Peter Straub
Publish Date:
November 1984
Genre:
Horror, Fantasy, Adult Fiction
Page Count:
761 pages
Jack Sawyer is 12 years old, and his mother is dying in a hotel on the other side of the country from sunny California, where there are from. Then he meets Speedy Parker and he is thrown into a mission and another world, the Territories, that is much different from his own. He has set out to find the Talisman and must travel from one coast to another to bring it back so he can save his mother and Queen Laura, his mother's "twinner", from death.
If you have read the Dark Tower series, I suggest that you take a peek at this. Similarities between the two include: the Territories are the same in both novels, they just take place at a different time, the concept of twinners, and some of the settings (The Queen's pavilion) are the same. King and Straub have some of the best villians in this novel. Morgan Sloat/Morgan of Orris, Sunlight Gardner are pretty terrifying. I completely lost myself in this book at several points.
Like I said, if you have ever read the Dark Tower series, definitely check this out. However, if fantasy is not really your thing and you have a hard time suspending your disbelief, I would bypass it for something a little more real. Overall, I would give this book a 4.5 out of 5.
Think you might want to give this book a try? Read other reviews or order from Amazon! The Talisman