On My Wishlist
is a weekly meme hosted by
Book Chick City
. Click the link to sign up!
Since I've been on
Goodreads.com
, I've joined a lot of groups and these groups have pretty extensive bookshelves. This week's On My Wishlist is going to be dedicated to some of the books that I've seen on these lists that I want to read.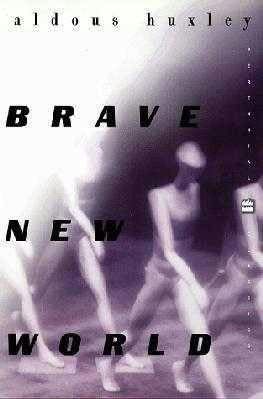 Title:
Brave New World
Author:
Aldous Huxley
Genre:
Science Fiction, Classic
Page Count:
268 pages
Summary:
(From
Goodreads.com
)
"Community, Identity, Stability" is the motto of Aldous Huxley's utopian World State. Here everyone consumes daily grams of soma, to fight depression, babies are born in laboratories, and the most popular form of entertainment is a "Feelie," a movie that stimulates the senses of sight, hearing, and touch. Though there is no violence and everyone is provided for, Bernard Marx feels something is missing and senses his relationship with a young women has the potential to be much more than the confines of their existence allow. Huxley foreshadowed many of the practices and gadgets we take for granted today--let's hope the sterility and absence of individuality he predicted aren't yet to come.
Title:
The Help
Author:
Kathryn Stockett
Genre:
Adult Fiction
Page Count:
451 pages
Summary:
(From
Goodreads.com
)
If you've enjoyed the southern charm of Fannie Flagg or
The Secret Life of Bees,
you'll find
The Help
a delight. Miss Eugenia Phelan ("Skeeter" to her friends) is a young woman of privilege who enjoys her fellow Junior Leaguers but sometimes finds their ways at odds with her own principles. She plays the part of her station in 1960s Mississippi but can't help feeling dissatisfied with keeping house and acting as recording secretary at league meetings, and yearns for something more.
Minny, Miss Celia, Aibileen, and Yule May are maids employed by Skeeter's friends. Each woman cooks, cleans, and cares for her boss's children, suffering slights and insults silently and sharing household secrets only among themselves. In the wake of the Junior League push to create separate bathrooms for the domestic help within private homes, Skeeter contacts a New York book editor with an idea. Soon she's conducting clandestine meetings with "the help" to capture their stories for publication. It is a daring and foolhardy plan, one certain to endanger not only the positions but the lives of the very women whose stories she transcribes -- as well as her own.
Stockett is a wonderful novelist, and
The Help
is a charming, thoughtful novel about women finding their voices, and the truths we see when we have the courage to look unflinchingly into the mirror.
Title:
Water for Elephants
Author:
Sara Gruen
Genre:
Adult Fiction
Page Count:
331 pages
Summary:
(From
Goodreads.com
)
Though he may not speak of them, the memories still dwell inside Jacob Jankowski's ninety-something-year-old mind. Memories of himself as a young man, tossed by fate onto a rickety train that was home to the Benzini Brothers Most Spectacular Show on Earth. Memories of a world filled with freaks and clowns, with wonder and pain and anger and passion; a world with its own narrow, irrational rules, its own way of life, and its own way of death. The world of the circus: to Jacob it was both salvation and a living hell." Jacob was there because his luck had run out - orphaned and penniless, he had no direction until he landed on this locomotive "ship of fools." It was the early part of the Great Depression, and everyone in this third-rate circus was lucky to have any job at all. Marlena, the star of the equestrian act, was there because she fell in love with the wrong man, a handsome circus boss with a wide mean streak. And Rosie the elephant was there because she was the great gray hope, the new act that was going to be the salvation of the circus; the only problem was, Rosie didn't have an act - in fact, she couldn't even follow instructions. The bond that grew among this unlikely trio was one of love and trust, and ultimately, it was their only hope for survival.
So, there's my wishlist for this week! Happy reading everyone!