Here's a weekly feature where I share what I'm excited about for the upcoming week in both books and music. I only feature one or two for each category, but there a LOADS of new releases every Tuesday and you can find them by visiting
B&N.com
or
FYE.com
!
Title: Not Dead and Not For Sale
Author: Scott Weiland
Release Date: May 17, 2011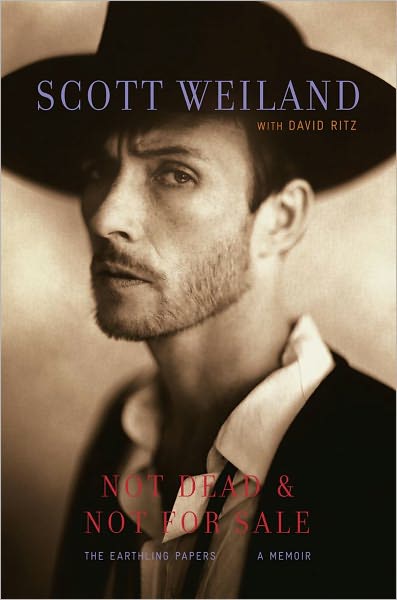 Summary:
(From
BN.com
)
In the early 1990s, Stone Temple Pilots—not U2, not Nirvana, not Pearl Jam— was the hottest band in the world. STP toppled such mega-bands as Aerosmith and Guns N' Roses on MTV and the Billboard charts. Lead singer Scott Weiland became an iconic front man in the tradition of Mick Jagger, David Bowie, and Robert Plant.
Then, when STP imploded, it was Weiland who emerged as the emblem of rock star excess, with his well-publicized drug busts and trips to rehab. Weiland has since made a series of stunning comebacks, fronting the supergroup Velvet Revolver, releasing solo work, and, most recently, reuniting with Stone Temple Pilots. He still struggles with the bottle, but he has prevailed as a loving, dedicated father, as well as a business-savvy artist whose well of creativity is far from empty.
These earthling papers explore Weiland's early years as an altar boy right along with his first experiences with sex and drugs. Weiland discusses his complex relationships with his parents, stepfather, siblings, and the love of his life, Mary Forsberg Weiland. Readers learn the fascinating stories behind his most well-known songs and what it was like to be there at the beginning of the grunge phenomenon, as Rolling Stone proclaimed on its cover: "the year punk broke." Not Dead & Not for Sale is a hard rock memoir to be reckoned with—a passionate, insightful, and at times humorous book that reads with extraordinary narrative force.
Why I'm Excited: I'm usually not one to read memoirs or autobiographies, or biographies for that matter, but this interests me. I LOVE STP. Of course, the public has watched as they've broken up, got back together, Weiland went to rehab, etc. I think I'm most interested in this because of all the public problems that Weiland has had and I think it will be interesting to see what he has to say about it all.
Album Title: Holding onto Strings Better Left to Fray
Artist: Seether
Release Date: May 17, 2011
Why I'm Excited:
Okay, I'll admit, I'm not
really
excited. Old Seether, from thier first two albums, I loved. Listening to it now still brings back memories of me being on the beach with my family, playing out with my mp3 player in (before there were ipods) and thinking that I was the coolest thing ever. I haven't listened to them in quite some time, but I'm sure I'll hear snatches of this on the radio. Who knows, maybe it will actually be worth picking up!