On My Wishlist is a weekly meme hosted by Book Chick City
. Click the link to sign up!
So, I've been on a bit of a Stephen King binge this week, which is why this edition of On My Wishlist is the way that it is! I also went through the bargain section of B&N online and found these titles, which I would order in a heartbeat!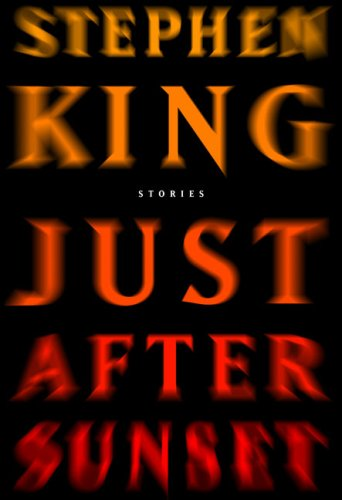 Title:
Just After Sunset
Author:
Stephen King
Genre:
Horror, Short Story Collection
Page Count:
367 pages
Summary:
(From
Goodreads
)
Who but Stephen King would turn a Port-O-San into a slimy birth canal, or a roadside honky-tonk into a place for endless love? A book salesman with a grievance might pick up a mute hitchhiker, not knowing the silent man in the passenger seat listens altogether too well. Or an exercise routine on a stationary bicycle, begun to reduce bad cholesterol, might take its rider on a captivating — and then terrifying — journey. Set on a remote key in Florida, "The Gingerbread Girl" is a riveting tale featuring a young woman as vulnerable — and resourceful — as Audrey Hepburn's character in
Wait Until Dark
. In "Ayana," a blind girl works a miracle with a kiss and the touch of her hand. For King, the line between the living and the dead is often blurry, and the seams that hold our reality intact might tear apart at any moment. In one of the longer stories here, "N.," which recently broke new ground when it was adapted as a graphic digital entertainment, a psychiatric patient's irrational thinking might create an apocalypticthreat in the Maine countryside...or keep the world from falling victim to it.
Just After Sunset
— call it dusk, call it twilight, it's a time when human intercourse takes on an unnatural cast, when nothing is quite as it appears, when the imagination begins to reach for shadows as they dissipate to darkness and living daylight can be scared right out of you. It's the perfect time for Stephen King.
Author: Various Authors; Edited by Peter Straub
Genre: Horror, Fiction
Page Count: 544 pages
Summary:
(From
Goodreads
)
From the incomparable master of horror and suspense comes an electrifying collection of contemporary literary horror, with stories from twenty-five writers representing today'€™s most talented voices in the genre.
Horror writing is usually associated with formulaic gore, but New Wave horror writers have more in common with the wildly inventive, evocative spookiness of Edgar Allan Poe than with the sometimes-predictable hallmarks of their peers. Showcasing this cutting-edge talent,
Poeâ€'s Children
now brings the best of the genre'€™s stories to a wider audience. Featuring tales from such writers as Neil Gaiman and Jonathan Carroll,
Poe'€™s Children
is Peter Straubâ€'s tribute to the imaginative power of storytelling. Each previously published story has been selected by Straub to represent what he thinks is the most interesting development in our literature during the last two decades.
Selections range from the early Stephen King psychological thriller â€'The Ballad of the Flexible Bullet,'€ in which an editor confronts an author'€™s belief that his typewriter is inhabited by supernatural creatures, to '€œThe Man on the Ceiling,'€ Melanie and Steve Rasnic Temâ€'s award-winning surreal tale of night terrors, woven with daylight fears that haunt a family. Other selections include National Book Award finalist Dan Chaon€'s €œ'The Bees'€; Peter Straubâ€'s '€œLittle Red'™s Tango,'€ the legend of a music aficionado whose past is as mysterious as the ghostly visitors to his Manhattan apartment; Elizabeth Handâ€'s visionary and shocking €'Cleopatra Brimstone'€; Thomas Ligotti'€™s brilliant, mind-stretching '€œNotes on the Writing of Horror: A Story'€; and 'Body,'€ Brian Evenson'€™s disturbing twist on correctional facilities.
Author: Dacre Stoker, Ian Holt
Genre: Horror, Fiction
Page Count: 432 pages
Summary:
(From
Goodreads
)
Dracula The Un-Dead is a bone-chilling sequel based on Bram Stoker's own handwritten notes for characters and plot threads excised from the original edition. Dracula The Un-Dead begins in 1912, twenty-five years after Dracula "crumbled into dust." Van Helsing's protégé, Dr. Jack Seward, is now a disgraced morphine addict obsessed with stamping out evil across Europe. Meanwhile, an unknowing Quincey Harker, the grown son of Jonathan and Mina, leaves law school for the London stage, only to stumble upon the troubled production of "Dracula," directed and produced by Bram Stoker himself.
The play plunges Quincey into the world of his parents' terrible secrets, but before he can confront them he experiences evil in a way he had never imagined. One by one, the band of heroes that defeated Dracula a quarter-century ago is being hunted down. Could it be that Dracula somehow survived their attack and is seeking revenge? Or is their another force at work whose relentless purpose is to destroy anything and anyone associated with Dracula?