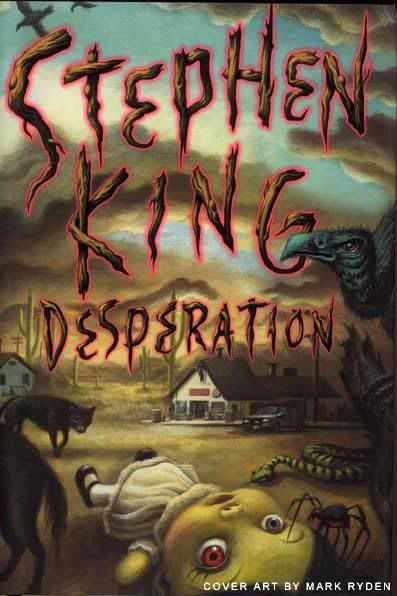 Title:
Desperation
Author:
Stephen King
Date Published:
October 1, 1996
Genre:
Horror, Adult Fiction
Page Count:
690 pages
Challenge:
Stephen King Challenge
Let me just say that when I found this book in a local used bookstore, I was very excited. Especially since its a first edition! However, I'm not really sure if the book lived up to my expectations. I liked it, I just don't think it was what I was expecting. It also has a counterpart that was published at the same time that I haven't read yet.
I vaguely knew what this book was about because I've seen bits and pieces of the made for television movie that is on SyFy channel. On a lonely stretch of Highway 50 in Nevada, a cop that appears to have completely lost his mind is stopping motorists and dragging them back to his small town of Desperation to kill them. The reader soon finds out that its not just an insane cop, and the town of Desperation is not your typical town.
I liked that the beginning wasn't super boring. There have been some King works that I have read, and the beginnings were a bit tough to get through. This one throws you right in, which was good.
However, as you read on in the book, I found that there were several passages that were completely unnecessary and that could have been deleted, shortening the novel a bit.
There was also a lot of talk of God, and that's one of the things that this novel centered around, David Carver and his relationship with God. There are other books of King's that I've read (Salem's Lot first comes to mind) in which other characters have struggled with their faith, but this was more forward, but it doesn't feel like you're being preached too, which was a plus.
I do have to say that I really wished that King had given the reader more background about Tak, the god (or demon) that the characters struggle with. He hints at it, but doesn't give us much more detail.
Overall, I liked this book. It wasn't my favorite King ring by far, but it was still a good story. I give it
3.5 out of 5
stars, and I would recommend it.
Think you might want to give this book a try? Read other reviews or order from Amazon.com Desperation