Here's a weekly feature where I share what I'm excited about for the upcoming week in both books and music. I only feature one or two for each category, but there a LOADS of new releases every Tuesday and you can find them by visiting
B&N.com
or
FYE.com
!
Title: A Dance with Dragons (A Song of Fire and Ice #5)
Author: George R. R. Martin
Release Date: July 12, 2011
Summary:
In the aftermath of a colossal battle, the future of the Seven Kingdoms hangs in the balance—beset by newly emerging threats from every direction. In the east, Daenerys Targaryen, the last scion of House Targaryen, rules with her three dragons as queen of a city built on dust and death. But Daenerys has thousands of enemies, and many have set out to find her. As they gather, one young man embarks upon his own quest for the queen, with an entirely different goal in mind.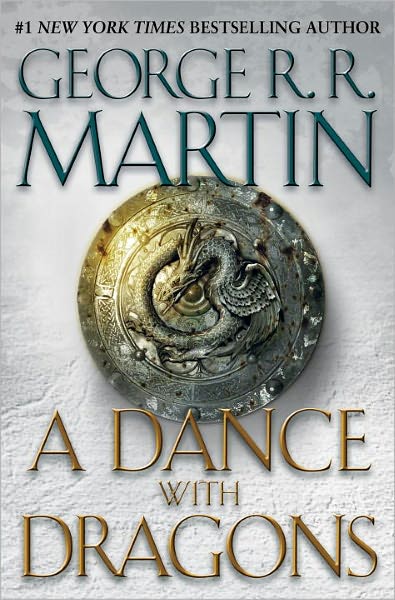 Fleeing from Westeros with a price on his head, Tyrion Lannister, too, is making his way to Daenerys. But his newest allies in this quest are not the rag-tag band they seem, and at their heart lies one who could undo Daenerys's claim to Westeros forever.
Meanwhile, to the north lies the mammoth Wall of ice and stone—a structure only as strong as those guarding it. There, Jon Snow, 998th Lord Commander of the Night's Watch, will face his greatest challenge. For he has powerful foes not only within the Watch but also beyond, in the land of the creatures of ice. From all corners, bitter conflicts reignite, intimate betrayals are perpetrated, and a grand cast of outlaws and priests, soldiers and skinchangers, nobles and slaves, will face seemingly insurmountable obstacles. Some will fail, others will grow in the strength of darkness. But in a time of rising restlessness, the tides of destiny and politics will lead inevitably to the greatest dance of all.
Why I'm Excited: I've actually never read anything from the Game of Thrones series, but I know tons of people that love the books and they love the series as well. I'm jealous that I don't have HBO to watch it. :[ Anyway, this is one series that I know I'll get around to reading, I just don't know when!
Album Title: Damnesia
Artist: Alkaline Trio
Release Date: July 12, 2011
Why I'm Excited:
I discovered Alkaline Trio sometime in high school, with their album
Crimson
. A lot of 'old fans' didn't like the album, but I happened to love it. I listened to it repetitively. However, since high school is a time where you change constantly, my music tastes warped and I never really got the opportunity to listen to any of their older albums and I haven't listened to anything else they've release either. But, since I've been searching for new music desperately, I think this will finally be my chance to listen to more of them. And that my friends, is exciting. :]