Here's a weekly feature where I share what I'm excited about for the upcoming week in both books and music. I only feature one or two for each category, but there a LOADS of new releases every Tuesday and you can find them by visiting
B&N.com
or
FYE.com
!
Title: Inheritance (The Inheritance Cycle #4)
Author: Christopher Paolini
Release Date: Novmeber 8, 2011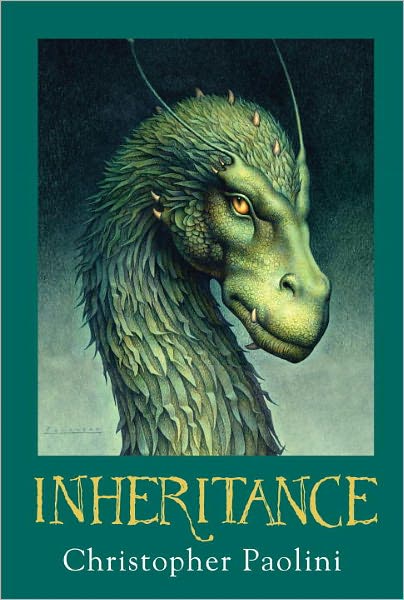 Summary:
Not so very long ago, Eragon—Shadeslayer, Dragon Rider—was nothing more than a poor farm boy, and his dragon, Saphira, only a blue stone in the forest. Now the fate of an entire civilization rests on their shoulders.
Long months of training and battle have brought victories and hope, but they have also brought heartbreaking loss. And still, the real battle lies ahead: they must confront Galbatorix. When they do, they will have to be strong enough to defeat him. And if they cannot, no one can. There will be no second chances.The Rider and his dragon have come further than anyone dared to hope. But can they topple the evil king and restore justice to Alagaësia? And if so, at what cost?This is the much-anticipated, astonishing conclusion to the worldwide bestselling Inheritance cycle.
Why I'm Excited: I have the first 3 books in this series and have yet to read them (I just can't get through my TBR pile!). But I was talking to a friend about this series and she says its like if Lord of the Rings and Harry Potter had a love child, this would be it. So, that in itself is interesting to me. She said that the second and third books didn't live up to the first, but I know that there are a lot of people who are excited about this book. If you're a reader of the series and didn't know this was coming out, I hope I just made your day!
Album Title: How I Go
Artist: The Kenny Wayne Shepard Band
Release Date: August 2, 2011
Why I'm Excited:
If this feature is something that you read regularly, then I think you've come to notice that I have a very eclectic taste in music. I listen to things like Lady Gaga, In Flames, Seether and a variety of other things. Once again, this album was something that I wasn't aware of until I was looking for something to post. I have been listening to the Kenny Wayne Shepard band for years and years. Since their first album really. My dad, who is a guitarist has always loved their music, and I love it too. Kenny really knows how to play the guitar and though they've recently gotten a little more publicity, they've maintained their roots, which is the blues. Its amazing music. I recommend them to everyone and I am excited about this album!