New Release Tuesday is a weekly feature where I share what I'm excited about in both books and music. Sometimes its release day is close, other times it can be several weeks or months in advance. I only feature one for each category, but there a LOADS of new and upcoming releases and you can find them by visiting
B&N.com
or
FYE.com
!
Title: Flash and Bones (Temperance Brennan Series #14)
Author: Kathy Reichs
Release Date: August 23, 2011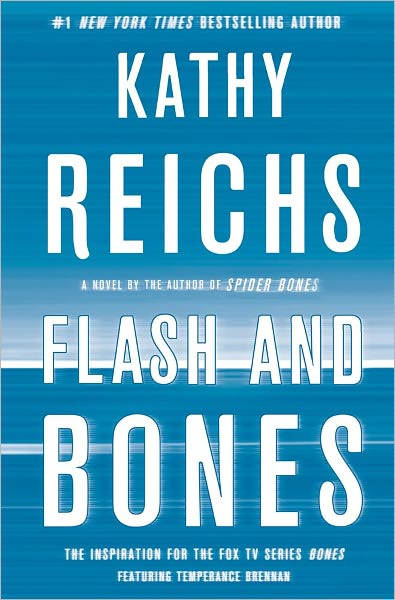 Summary:
Just as 200,000 fans are pouring into town for Race Week, a body is found in a barrel of asphalt next to the Charlotte Motor Speedway. The next day, a NASCAR crew member comes to Temperance Brennan's office at the Mecklenburg County Medical Examiner to share a devastating story. Twelve years earlier, Wayne Gamble's sister, Cindi, then a high school senior and aspiring racer, disappeared along with her boyfriend, Cale Lovette. Lovette kept company with a group of right-wing extremists known as the Patriot Posse. Could the body be Cindi's? Or Cale's?
At the time of their disappearance, the FBI joined the investigation, only to terminate it weeks later. Was there a cover-up? As Tempe juggles multiple theories, the discovery of a strange, deadly substance in the barrel alongside the body throws everything into question. Then an employee of the Centers for Disease Control and Prevention goes missing during Race Week. Tempe can't overlook the coincidence. Was this man using his lab chemicals for murder? Or is the explanation even more sinister? What other secrets lurk behind the festive veneer of Race Week?
Why I'm Excited: I actually haven't had the chance to read this series yet, but I'm dying to! I watched the television series, Bones, that was inspired by these books and I love it. Although I have heard mixed reviews about these books, I still can't wait to dive into them.
Album Title: Shallow Bay: The Best of Breaking Benjamin
Artist: Breaking Benjamin
Release Date: August 16, 2011
Why I'm Excited:
When I was a kid, I bounced around, listening to different genres, trying to figure out what I really liked. Today, I listen to a little bit of everything, but rock music is definitely my genre, whether its the classics or something a little more modern. Breaking Benjamin was one of those bands that got me to where I am, along with other artists like Seether. I think I only own one of their cd's though, so this would be a nice edition to my collection. It has the first song I ever heard by them, as well as all of their new music that I actually like. It also comes with a second disc that has 11 tracks of previously unreleased material, covers, and acoustic version of some of their songs. I would say that's a pretty good value. I definitely want to pick this one up!