New Release Tuesday is a weekly feature where I share what I'm excited about in both books and music. Sometimes its release day is close, other times it can be several weeks or months in advance. I only feature one for each category, but there a LOADS of new and upcoming releases and you can find them by visiting
B&N.com
or
FYE.com
!
Title: The Night Circus
Author: Erin Morgenstern
Release Date: September 19, 2011
Summary: The circus arrives without warning. No announcements precede it. It is simply there, when yesterday it was not. Within the black-and-white striped canvas tents is an utterly unique experience full of breathtaking amazements. It is called Le Cirque des Rêves, and it is only open at night.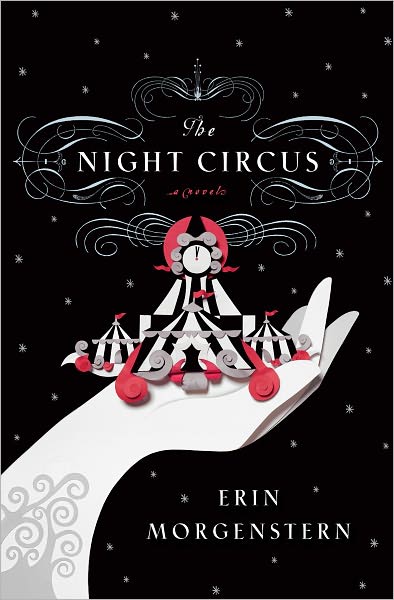 But behind the scenes, a fierce competition is underway—a duel between two young magicians, Celia and Marco, who have been trained since childhood expressly for this purpose by their mercurial instructors. Unbeknownst to them, this is a game in which only one can be left standing, and the circus is but the stage for a remarkable battle of imagination and will. Despite themselves, however, Celia and Marco tumble headfirst into love—a deep, magical love that makes the lights flicker and the room grow warm whenever they so much as brush hands.

True love or not, the game must play out, and the fates of everyone involved, from the cast of extraordinary circus per­formers to the patrons, hang in the balance, suspended as precariously as the daring acrobats overhead.

Written in rich, seductive prose, this spell-casting novel is a feast for the senses and the heart.




Why I'm Excited:

I've seen a lot of buzz about this one, on Twitter and on the blogs. I'd love to read it and I really hope that it lives up to the hype! I've seen a lot of books fall short lately, hopefully this won't be one of them!
Album Title: Dead Throne
Artist: The Devil Wears Prada
Release Date: September 13, 2011
Why I'm Excited:
I've seen TDWP twice and both times they were amazing. Their
Zombie EP
came out about 2 years ago and I've been waiting on something from them for quite a while! I found their newest single,
Born to Lose
and I instantly became excited about this release. If the rest of the album sounds anything like this, I will have this on repeat in my car for who knows how long. It seems like its going to be a real departure from
With Roots Above and Branches Below
. I loved that album, but the clean vocals sound different in this and I think its going to be a more refined sound. So, I'm excited. I might pre-order this actually :]