New Release Tuesday is a weekly feature where I share what I'm excited about in both books and music. Sometimes its release day is close, other times it can be several weeks or months in advance. I only feature one for each category, but there a LOADS of new and upcoming releases and you can find them by visiting
B&N.com
or
FYE.com
!
Title: Abarat: Absolute Midnight
Author: Clive Barker
Release Date: September 27, 2011
Summary:
"I know that many of you here have waited years for this Hour," Mater Motley said, using that voice that, though it was barely conversational in volume, was somehow heard everywhere. "The waiting is over. Tomorrow there will be no dawn. Only midnight, absolute and eternal."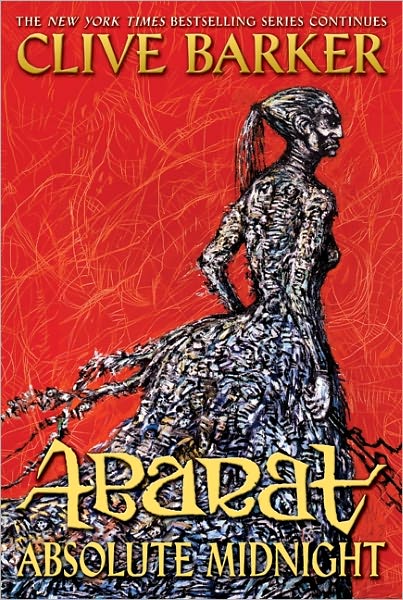 And so begins a new chapter in the epic story of sixteen-year-old Candy Quackenbush and her journeys through the world of the Abarat, where every hour is an island in one eternal day, and nothing is as it seems.
Candy travels through the Abarat from island to island and across the sea with an unlikely band of friends: the escaped prisoner Malingo the Geshrat, the quarrelsome John Brothers, who all share the same body but never the same opinion, and the many other colorful characters they meet along the way.
The problem is that trouble finds Candy wherever she goes. And soon she discovers a secret plot, masterminded by the diabolical Mater Motley, who is obsessed with becoming Empress of the Islands. Her method is simple. She will darken the skies, putting out the suns, moons, and stars. She will bring absolute midnight.
Why I'm Excited: I've only read a handful of Clive Barker works, but the things that I have read, I have definitely enjoyed. This is actually the long awaited, third installment in the Abarat series. I have the first, but I haven't had the opportunity to read it yet. I do love Clive Barker though, so I can't wait to read more of his work, including this series!
Album Title: IV
Artist: Maylene and the Sons of Disaster
Release Date: September 27, 2011
Why I'm Excited:
Just looking at the release date makes me so excited for this! I first discovered Maylene at Warped Tour several years ago. We had heard of them, but when we saw them and saw how fantastic they were live, we went over and picked up their CD from their tent. You all know I'm from the south, and I will always love southern rock. They have a very southern element to their music and they're incredibly talented musicians. Well, actually, the only original member left of the group is Dallas, the vocalist, so I'm very interested to see how this album is going to turn out. Regardless, I can't wait for its release and I hope its fantastic! If you like southern rock and good music is general, check out this band! Their album
III
is amazing!