New Release Tuesday is a weekly feature where I share what I'm excited about in both books and music. Sometimes its release day is close, other times it can be several weeks or months in advance. I only feature one for each category, but there a LOADS of new and upcoming releases and you can find them by visiting
B&N.com
or
FYE.com
!
Title: Crossed (Matched Trilogy #2)
Author: Ally Condie
Release Date: November 1, 2011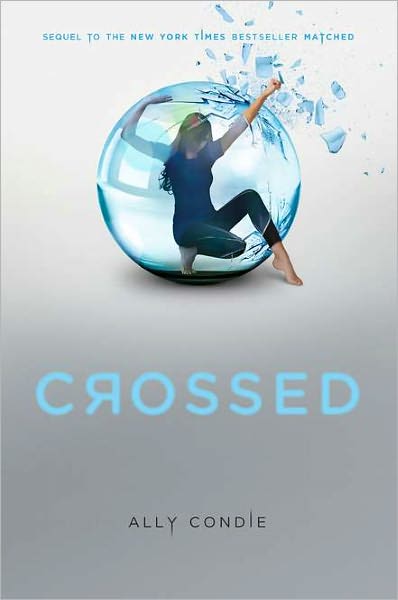 Summary:
In search of a future that may not exist and faced with the decision of who to share it with, Cassia journeys to the Outer Provinces in pursuit of Ky - taken by the Society to his certain death - only to find that he has escaped, leaving a series of clues in his wake.
Cassia's quest leads her to question much of what she holds dear, even as she finds glimmers of a different life across the border. But as Cassia nears resolve and certainty about her future with Ky, an invitation for rebellion, an unexpected betrayal, and a surprise visit from Xander - who may hold the key to the uprising and, still, to Cassia's heart - change the game once again. Nothing is as expected on the edge of Society, where crosses and double crosses make the path more twisted than ever.
Why I'm Excited:
I actually haven't read the first in the series,
Matched
, but I have read really great reviews about it in the blogosphere. Naturally, now that there is the second in the series, people are freaking out about it all over again, as I'm sure I would if I had read the first. I've already seen some ARC's floating around on different blogs, so I'm sure there will be some reviews up soon and some may already be up. Anyway, in case you didn't know that this one was coming out, here it is! Get excited!
Album Title: Siberia
Artist: Lights
Release Date: October 4, 2011
Why I'm Excited:
I actually started listening to Lights because of Old Navy. There was one song that we played at work that I really liked and I looked her up on YouTube. Anyway, I became obsessed. Lights is a one person group, she writes and composes all of her music herself. The girl has got a killer voice and she's so gorgeous that she makes me jealous. I got her album
The Listening
and fell in love and I got her album,
Lights - Acoustic
as well so when I found out that there was a new album, I immediately got excited. She's been releasing teasers on her website and her
YouTube Channel
and she just released a video for her single "Toes" that I'm going to post and annoy you with, because it is that fantastic. It's pop-ish, electronic, feel good music that is basically amazing and if you like that sort of thing and you haven't checked her out, I suggest that you do IMMEDIATELY. Oh, and buy the album when it comes out on October 4th. I'll be pre-ordering :]