New Release Tuesday is a weekly feature where I share what I'm excited about in both books and music. Sometimes its release day is close, other times it can be several weeks or months in advance. I only feature one for each category, but there a LOADS of new and upcoming releases and you can find them by visiting
B&N.com
or
FYE.com
!
Title: Out of Oz (Wicked Series #4)
Author: Gregory Maguire
Release Date: November 1, 2011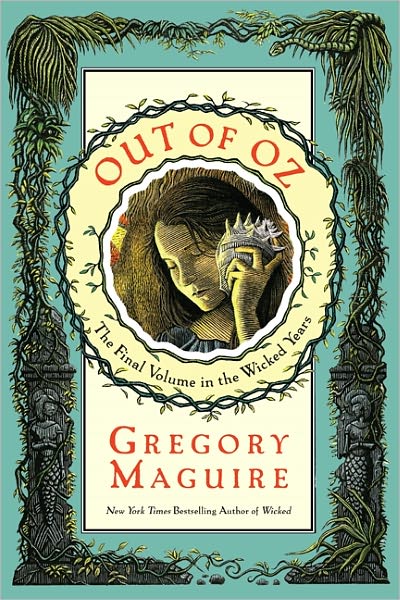 Summary:
Once peaceful and prosperous, the spectacular Land of Oz is knotted with social unrest: The Emerald City is mounting an invasion of Munchkinland, Glinda is under house arrest, and the Cowardly Lion is on the run from the law. And look who's knocking at the door. It's none other than Dorothy. Yes. That Dorothy.
Yet amidst all this chaos, Elphaba's granddaughter, the tiny green baby born at the close of Son of a Witch, has come of age. Now it is up to Rain to take up her broom—and her legacy—in an Oz wracked by war.
The stirring, long-awaited conclusion to the bestselling series begun with Wicked,Out of Oz is a magical journey rife with revelations and reversals, reprisals and surprises—the hallmarks of the unique imagination of Gregory Maguire.
Why I'm Excited: I own the first and the third books in this series, but I haven't read them yet. To be honest, I'm a little scared to. I've heard great things from some people and other people have said that they hated these books. With so many mixed reviews, I don't know what to think. Regardless, there are people that do love this series that will be very happy to see the conclusion of this series, which is why I thought that it would be worth featuring!
Album Title: In Some Way, Shape of Form
Artist: Four Year Strong
Release Date: November 8, 2011
Why I'm Excited:
I think Karen and I discovered Four Year Strong on Warped Tour one year. Maybe it was somewhere else, but regardless, they remind me of A Day to Remember, only different. They have a different sound, more of a positive vibe, which is something that I love. They actually have an album of 90's cover songs. Its phenomenal. Anyway, when I heard they were releasing a new album, I started creeping YouTube trying to find some leaks or some samples and I finally found some and I LOVE the new things that they've put up. I think this album is going to be an album that I'll listen to in the car with the windows down and the music up LOUD. Very excited for this album!