New Release Tuesday is a weekly feature where I share what I'm excited about in both books and music. Sometimes its release day is close, other times it can be several weeks or months in advance. I only feature one for each category, but there a LOADS of new and upcoming releases and you can find them by visiting
B&N.com
or
FYE.com
!
Title: The Scottish Prisoner: A Lord John Novel
Author: Diana Gabaldon
Release Date: November 29, 2011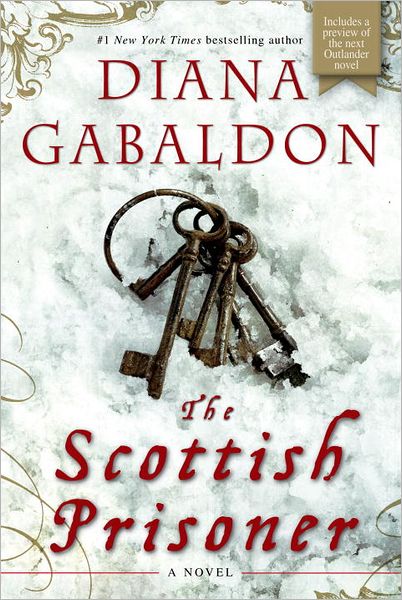 Summary:
London, 1760. For Jamie Fraser, paroled prisoner-of-war in the remote Lake District, life could be worse: He's not cutting sugar cane in the West Indies, and he's close enough to the son he cannot claim as his own. But Jamie Fraser's quiet existence is coming apart at the seams, interrupted first by dreams of his lost wife, then by the appearance of Tobias Quinn, an erstwhile comrade from the Rising.
Like many of the Jacobites who aren't dead or in prison, Quinn still lives and breathes for the Cause. His latest plan involves an ancient relic that will rally the Irish. Jamie is having none of it—he's sworn off politics, fighting, and war. Until Lord John Grey shows up with a summons that will take him away from everything he loves—again.
Lord John Grey—aristocrat, soldier, and occasional spy—finds himself in possession of a packet of explosive documents that exposes a damning case of corruption against a British officer. But they also hint at a more insidious danger. Time is of the essence as the investigation leads to Ireland, with a baffling message left in "Erse," the tongue favored by Scottish Highlanders. Lord John, who oversaw Jacobite prisoners when he was governor of Ardsmiur prison, thinks Jamie may be able to translate—but will he agree to do it?
Soon Lord John and Jamie are unwilling companions on the road to Ireland, a country whose dark castles hold dreadful secrets, and whose bogs hide the bones of the dead. A captivating return to the world Diana Gabaldon created in her Outlander and Lord John series, The Scottish Prisoner is another masterpiece of epic history, wicked deceit, and scores that can only be settled in blood.
Why I'm Excited:
Oh gosh, I loved
Outlander
sososososososososo much. I loved the character and the plot and everything about it. It was on my list of things that I needed to read this year, and I have the next two in the series, but I don't think I'm going to get to them. Anyway, anything that has Jamie Fraser in it is something to be excited about, and if you haven't read the Outlander series, you should. At least the first one. And in case you were unaware, she's writing another book in the Outlander series. I did not know this until I looked at her website. Get excited, folks!
Album Title: Get Along
Artist: Tegan and Sarah
Release Date: November 15, 2011
Why I'm Excited:
I've really been on a kick with female vocalists lately. Florence + the Machine, Grace Potter and the Nocturnals, Lights, and this is another pair of strong female vocalists. I got into them a few years back, can't remember how many years now, but I've always loved their vocalists and their music isn't super pop radio friendly which I like as well. If you like female vocalists with music that has an indie feel, you should check out some of their older albums and check this one out when it comes out!