New Release Tuesday is a weekly feature where I share what I'm excited about in both books and music. Sometimes its release day is close, other times it can be several weeks or months in advance. I only feature one for each category, but there a LOADS of new and upcoming releases and you can find them by visiting
B&N.com
or
FYE.com
!
Title: Home Front
Author: Kristin Hannah
Release Date: January 31, 2012
Summary:
All marriages have a breaking point. All families have wounds. All wars have a cost. . . .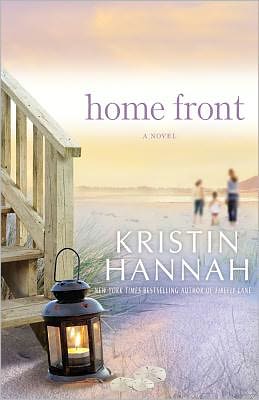 Like many couples, Michael and Jolene Zarkades have to face the pressures of everyday life—-children, careers, bills, chores—-even as their twelve-year marriage is falling apart. Then an unexpected deployment sends Jolene deep into harm's way and leaves defense attorney Michael at home, unaccustomed to being a single parent to their two girls. As a mother, it agonizes Jolene to leave her family, but as a solider she has always understood the true meaning of duty. In her letters home, she paints a rose-colored version of her life on the front lines, shielding her family from the truth. But war will change Jolene in ways that none of them could have foreseen. When tragedy strikes, Michael must face his darkest fear and fight a battle of his own—-for everything that matters to his family.
At once a profoundly honest look at modern marriage and a dramatic exploration of the toll war takes on an ordinary American family, Home Front is a story of love, loss, heroism, honor, and ultimately, hope.
Why I'm Excited: I actually have two books by this author that I got from a coworker and I have not had the opportunity to read them yet. But I have heard really good things about this author and several of her works. I actually didn't even know what this book was about until I read the description while making this post, and it looks actually really good. Hopefully I can get to the other books of hers I have and I might then pick this one up!
Album Title: Less Rhythm, More Booze
Artist: Authority Zero
Release Date: January 21, 2012
Why I'm Excited:
My good friend Robbie introduced me to this band years back because he was absolutely enamored with them and I really grew to like them. I wish I could think of something to compare them to, but I really can't think of anything that the sound like right now. According to the track listing, it might be a live album or it might just be a compilation of some of their music, because I actually know several of the songs on the track listing. So, we'll just have to see what this is like.