New Release Tuesday is a weekly feature where I share what I'm excited about in both books and music. Sometimes its release day is close, other times it can be several weeks or months in advance. I only feature one for each category, but there a LOADS of new and upcoming releases and you can find them by visiting
B&N.com
or
FYE.com
!
And it's my birthday, bitches! I'm 23 today (Ack, I can't believe it), which isn't a very exciting birthday, but I'm still being taken to dinner tonight and various other things, so hopefully today will be pretty awesome!
Title: Insurgent
Author: Veronica Roth
Release Date: May 1, 2012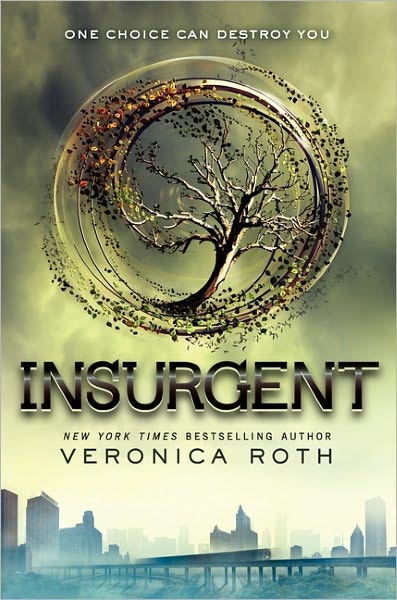 Summary:
One choice can transform you—or it can destroy you. But every choice has consequences, and as unrest surges in the factions all around her, Tris Prior must continue trying to save those she loves—and herself—while grappling with haunting questions of grief and forgiveness, identity and loyalty, politics and love.
Tris's initiation day should have been marked by celebration and victory with her chosen faction; instead, the day ended with unspeakable horrors. War now looms as conflict between the factions and their ideologies grows. And in times of war, sides must be chosen, secrets will emerge, and choices will become even more irrevocable—and even more powerful. Transformed by her own decisions but also by haunting grief and guilt, radical new discoveries, and shifting relationships, Tris must fully embrace her Divergence, even if she does not know what she may lose by doing so.
New York Times bestselling author Veronica Roth's much-anticipated second book of the dystopian Divergent series is another intoxicating thrill ride of a story, rich with hallmark twists, heartbreaks, romance, and powerful insights about human nature.
Why I'm Excited: So I can't say that I have ever read this the first in this series, Divergent, but I know a lot of people that have, and a lot of people have absolutely loved it. Also, if you can believe it, I read my first dystopian earlier this week, that being the first book of The Hunger Games and I totally loved it. I loved dystopian concept and it really makes me eager to read more of this genre. So I would love to get Divergent sometime between now and May so that I can be just as excited for this release as everyone else is.
Album Title: Short Songs
Artist: Silverstein
Release Date: February 7, 2012
Why I'm Excited:
Okay, I'm going to gush for a minute about how much I completely love Silverstein. I saw them a few years ago with my best friend Karen and they were beyond amazing. They're really one of those bands from high school that I still listen to and I think I always will. They're angsty and I'm pretty sure that Shane has been writing the same songs about the same woman breaking his heart for years, but that's okay because I still love them. They've really evolved over the years musically. I'm not really sure if this is a b-sides album or what this is, but I'll be getting it regardless.