New Release Tuesday is a weekly feature where I share what I'm excited about in both books and music. Sometimes its release day is close, other times it can be several weeks or months in advance. I only feature one for each category, but there a LOADS of new and upcoming releases and you can find them by visiting
B&N.com
or
FYE.com
!
Title: Deadlocked (Sookie Stackhouse #12)
Author: Charlaine Harris
Release Date: May 1, 2012
Summary: None Found.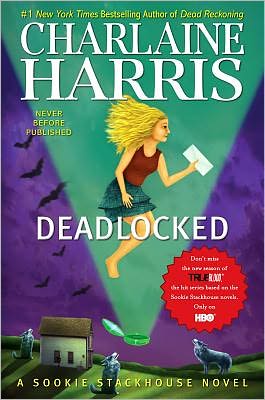 Why I'm Excited:
Personally, I've never read any of this series and I've never seen the HBO series either. However, I know its IMMENSELY popular and so many people love it. I have the first book in the series and its something that I keep meaning to pick up and I just haven't had the chance to do it yet, but one day I'll finally get to it!
Album Title: Ex Lives
Artist: Every Time I Die
Release Date: March 6, 2012
Why I'm Excited:
Oh my gosh. I don't even know when the last time was that I featured an album where I was genuinely excited for the release, but this I am SO FREAKING EXCITED FOR. I would be willing to take a guess and say that this is not the type of band that most of my readers would listen to, but I'm excited about this and I want to share this! Their last album was released in 2009 and it was freaking fantastic. I was supposed to see them on Warped Tour 2010 and their set got rained out, but we made up for it by seeing them in a small bar in November of that year and it was by far one of the best shows I've ever been to. SO much fun and the guys are amazingly nice. So, needless to say, I want to see how they follow up their previous release and I need them to come back close so I can see them again!